Lead Vacuum with HEPA Filter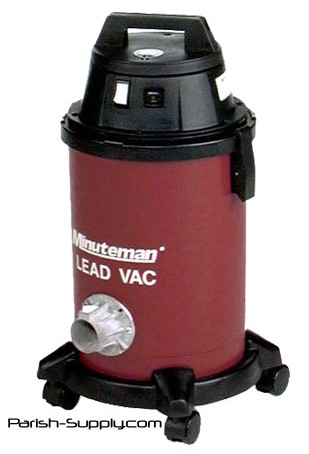 H.E.P.A. filtered vacuum for the recovery of lead, dust, paint chips and other hazardous materials.
Conventional vacuum cleaners exhaust unseen lead particles back into the environment, compounding the existing hazard.
Minuteman's lead vacuum has been specifically designed for safe and efficient daily use in commercial and industrial sites.
With a H.E.P.A. vacuum, particulates are contained within a special filter, allowing NO hazardous dust to escape back into the air.
As an added precaution, a patented interlocking safety system prevents the vacuum from being operated without the H.E.P.A. filter.
FEATURES
Non-woven, embossed, polyester filter bag provides 50% more filtration area than standard bags. Filter is 99.9% efficient at 3.0 microns.
Equipped with H.E.P.A. (High Efficiency Particulate Air) Filter which is 99.99% efficient at 0.12 microns.
State-of-the-Art polypropylene lid assembly is acoustically designed to minimize noise . . . 72 dba.
Polyethylene tanks are durably constructed, non-corrosive and dent-proof for years of reliable service.
The sure-grip/quick-release mechanism makes it easy to connect and remove hoses.